Contact Info
21 Broad St
Baja California Sur
Cabo San Lucas, Mexico 23410
Description
At Club Cascadas de Baja, stone-faced surfaced paths meander through the sand to round sculptured villas with thatched bamboo roofs nestled in groves of palm trees and tropical flora. Let yourself be pampered at this 5-star tropical paradise where you can let your worries drift away.
Consisting of 110 unique villas, Club Cascadas de Baja boasts a native Mexican village with an exquisite, tropical, resort atmosphere. Experience these luxurious, one to four-bedroom villas surrounded by coco palms and lush foliage, many with a private pool or spa. Enjoy tropical garden or ocean views from your fully-equipped villa offering full kitchen, daily maid service and air-conditioned bedrooms.
So many things to see and do on-site at Club Cascadas! Enjoy delicious dining at the Cascadas Beach Grill, relax and be pampered at the Cascadas Beauty Salon & Spa, visit the Clubhouse to find fun on-site activities for all ages, play a game of tennis, work off some energy at the fitness center and so much more.
Muchas Cosas "Many Things", boutique and market is right in the Club Cascadas lobby, for all the niceties and necessities to make your vacation complete. For your convenience, you'll find the Internet Café located inside the Muchas Cosas shop.
Get ready for an exciting vacation in Cabo! Club Cascadas is waiting for your visit.
Amenities
On Premises

Bar/Lounge
Fitness Center
Hot Tub
Outdoor Pool
Restaurant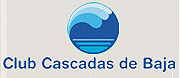 Let yourself be pampered at this tropical paradise where you can let your worries drift away.
Enjoy Our Special Offer! 10% off your nightly condo rental when you enter Promo/Package Code: GOMEXICO10 at checkout online. CLICK HERE to SAVE!
Map + Directions
Customizable Directions